The White Buffalo Shares New Single "Avalon" & Announces New Tour Dates
The White Buffalo Shares New Single "Avalon"
Via Billboard Magazine
Announces New Tour Dates
New Album Darkest Darks, Lightest Lights
Out October 6th
On Unison Music Group / Thirty Tigers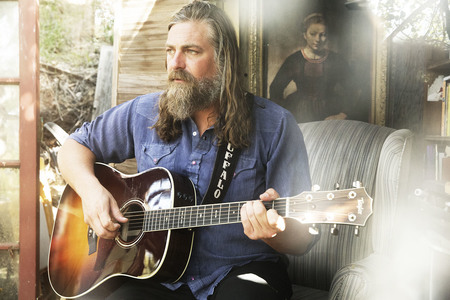 The White Buffalo
has released a new single, "
Avalon
" from the upcoming album
Darkest Darks, Lightest Lights
. The track is currently streaming on
Billboard.com
, who describes it as "an expansive country-tinged rock song that feels like a journey itself, telling the story of one wayward man's trip to peace."
Listen: The White Buffalo – "Avalon"
The sixth full-length record for the artist,
Darkest Darks, Lightest Lights
will be released on October 6th via Unison Music Group / Thirty Tigers. The White Buffalo has also announced the
Darkest Darks, Lightest Lights
tour, a nationwide run of shows starting this November – see below for a full list of dates. All tickets will go on sale at 10am local time this Friday August 18th, and can be purchased here:
http://thewhitebuffalo.com/tour/
The White Buffalo also recently shared the song "The Observatory", which premiered on
Rolling Stone Country
who writes, "There's something ancient about Jake Smith's voice… it's the perfect instrument with which to ponder the secrets of the universe or the ties that bind his fellow humans, which is just what Smith does on the newest White Buffalo track, 'The Observatory.'"
Darkest Darks, Lightest Lights
is available for pre-order via The White Buffalo's
website
, which features special bundle packages that include vinyl, apparel and other items:
http://smarturl.it/whitebuffall
.
Known as The White Buffalo, songwriter Jake Smith has resolutely charted his own single-minded musical course for more than a decade. His captivating live presence and workingman's approach to his craft has earned him a loyal fan base nationwide, as well as glowing reviews from press outlets including
Rolling Stone
,
Entertainment Weekly,
Paste
, and more. Smith has toured alongside Ryan Bingham, Jack Johnson, Xavier Rudd, State Radio, Ziggy Marley, and most recently Flogging Molly. He has also been featured on Jimmy Kimmel Live – watch his performance
HERE
.
Over the course of five albums, various EPs, and numerous prominent placements in such high-profile outlets as TV's Sons of Anarchy and Californication, Smith has built a powerful body of work that marks him as a genuine original. He was nominated for a 2015 Emmy for his song "Come Join The Murder", co-written with Bob Thiele & Kurt Sutter for the final episode of Sons Of Anarchy. The California-bred artist writes timeless, vividly detailed character studies, tapping into the emotional lives of various misfits, outsiders and troubled souls with insight and compassion. His songwriting is matched by his rough-hewn, deeply expressive voice, and by his distinctive instrumental arrangements, which are simultaneously intimate and epic.
"The voice inside him whirls… hitting the air like a fist."
Jeffrey Fleishman, L.A. Times
"..he's a turbo charged Bruce Springsteen, equal parts brain and brawn"
– Q Magazine
Darkest Darks, Lightest Lights Track Listing:
1. Hide and Seek
2. Avalon
3. Robbery
4. The Observatory
5. Madam's Soft, Madam's Sweet
6. Nightstalker Blues
7. If I Lost My Eyes
8. Border Town / Bury Me In Baja
9. The Heart and Soul Of The Night
10. I Am The Moon
Darkest Darks, Lightest Lights Tour Dates:
11/10/2017 – Missoula, MT – Top Hat Lounge
11/11/2017 – Billings, MT – Pub Station
11/12/2017 – Bozeman, MT – The Eagles Ballroom
11/14/2017 – Boise, ID – Neurolux
11/15/2017 – Salt Lake City, UT – The Depot
11/17/2017 – Aspen, CO – Belly Up
11/18/2017 – Longmont, CO – The Oak Room at Oskar Blues Tasty
11/19/2017 – Santa Fe, NM – The Bridge at Santa Fe Brewing
12/01/2017 – Minneapolis, MN – Cedar Cultural Center
12/02/2017 – Chicago, IL – Bottom Lounge
12/03/2017 – Madison, WI – High Noon Saloon
12/05/2017 – Cleveland, OH – Grog Shop
12/06/2017 – Detroit, MI – The Shelter
12/08/2017 – Portland, ME – Aura
12/09/2017 – South Burlington, VT – The Higher Ground, Showcase Room
12/10/2017 – Brooklyn, NY – Brooklyn Bowl
12/12/2017 – Philadelphia, PA – The Foundry at The Fillmore
12/13/2017 – Washington, DC – 9:30 Club
12/15/2017 – Boston, MA – Paradise Rock Club
01/13/2018 – Los Angeles, CA – Fonda
01/19/2018 – San Diego, CA – The Observatory North Park
01/20/2018 – Santa Ana, CA – The Observatory
01/23/2018 – Santa Cruz, CA – The Catalyst
01/24/2018 – San Francisco, CA – The Fillmore
01/26/2018 – Eugene, OR – Hi-Fi Music Hall
01/27/2018 – Portland, OR – Wonder Ballroom
01/28/2018 – Seattle, WA – The Crocodile
02/09/2018 – Atlanta, GA – The Loft
02/10/2018 – Asheville, NC – The Grey Eagle
02/11/2018 – Charlotte, NC – Visulite Theatre
02/13/2018 – Louisville, KY – Zanzabar
02/14/2018 – Nashville, TN – Mercy Lounge
02/16/2018 – Memphis, TN – Hi-Tone
02/17/2018 – New Orleans, LA – The Parish Room at the House of Blues
02/18/2018 – Houston, TX – House of Blues – Bronze Peacock
02/20/2018 – Austin, TX – The Parish
02/21/2018 – Dallas, TX – Club Dada
02/23/2018 – Tucson, AZ – Club Congress